Welcome to Kentucky APSE, a resource for everyone interested in seeing employment as a real option for all Kentuckians, regardless of impact of disability.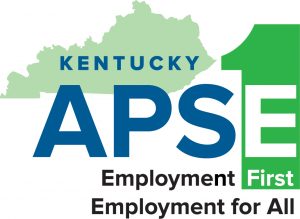 KY APSE & the KY Supported Employment Training Project are presenting a four part virtual training series. The day after each session we will hold an optional drop in call for conversation on application and general Q&A.
Part 1) Employment First – Values and the Work We Do
December 14, 2023; 10 – 11:30 Eastern
Part 2) Targeted Job Development – Knowing Where to Go & What to Say
January 11, 2024; 10 – 11:30 Eastern
Part 3) After the Job Start – What Now? How to Support People Well & Look to the Future
February 8, 2024; 10 – 11:30 Eastern
Part 4) Putting it All Together – How to Manage your Time, Communication and Run an Effective Business
March 14, 2024; 10 – 11:30 Eastern
Employment First Works for…
Check out our new series of success stories. We will share one a month.
If you have a story you would like to submit for sharing, please contact us at kyapse@apse.org.
April story – Supported Employment Works for Caitlyn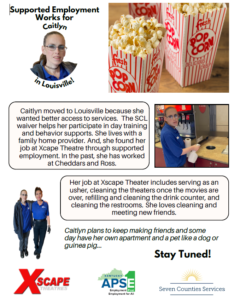 Kentucky is an Employment First State 

Kentucky APSE thanks Kentucky Senator Danny Carroll for sponsoring Senate Bill 104, now signed into law.
You can find the full Employment First legislation and more on the Employment First Council, including meeting schedule, here.
What is Employment First in Kentucky? Learn more here
Kentucky's new Employment First law was featured in a recent article in the Owensboro Messenger-Inquirer