Welcome to Kentucky APSE, a resource for everyone interested in seeing employment as a real option for all Kentuckians, regardless of impact of disability.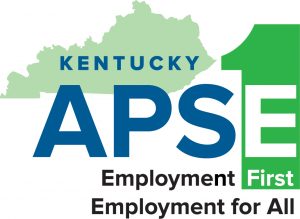 If you are interested in bringing a KY APSE regional event to your region, let us know! kyapse@apse.org
March 3 – Bowling Green (Warren County Extension Office)
March 4 – Lexington (Central Library)
March 5 – London (Laurel County Public Library)
March 24 – Paducah (CFSB; reg deadline 3/20 at 9:00 Central)
March 27 – Hazard (Perry County Public Library)
A full day of Supported Employment training will be provided. You are welcome to attend all or just half of the day. The day will focus on expectations around service delivery and documentation. We are excited to bring providers, Counselors and Case Managers together so we all understand the SE process and can work better together to support people seeking employment and on the job. Sessions are 3 hours each and times vary by location (see registration page for times.)  More details on the flier linked above.
$10/person; CRC & CEU offered.
On May 15, 2018 former Governor Matt Bevin signed an Executive Order creating an Employment First Council and declaring that employment be the first and preferred service for those Kentuckians with disabilities who want to work. The signing came upon release of the Kentucky Work Matters report supporting increased employment for Kentuckians with disabilities. The President of Kentucky APSE was invited to be a member of the Work Matters Task Force which lead to the creation of this report!
Want to learn more about the Certified Employment Support Professional credential? Click here!
Check out this  video on Customized Employment in Kentucky!