Welcome to Kentucky APSE, a resource for everyone interested in seeing employment as a real option for all Kentuckians, regardless of impact of disability.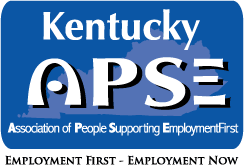 The 2017 Conference of Kentucky APSE will be March 29-30th! Pre-conference March 28th. It will be held at the beautiful Campbell House Hotel in Lexington, watch for details to come!  Register here!
Kentucky will host the CESP Exam following the conference on March 30th. More info soon. Want to learn more about the Certified Employment Support Professional credential? Click here!
Check out this  video on Customized Employment in Kentucky!
If you are interested in bringing a KY APSE regional event to your region, let us know! kwolf@uky.edu