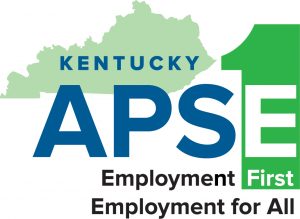 December 16th — Zoom links have been sent to registrants. Don't see them? email kyapse@apse.org
9:30 – 5:00 Eastern/8:30 – 4:00 Central
We will open and close with everyone in the same Zoom Room. The opening will feature a panel of Kentucky providers discussing methods for effective remote services. We will close with Dr. Chrissy Whiting-Madison sharing Happy Within: Self-Discovery & Positivity in a Global Pandemic. Two timely topics! 
We will offer 3 rounds of concurrent sessions on the following topics: 50 Ways to Engage Employers ** Natural Supports: Getting Out of the Way ** Understanding Implicit Bias ** Supporting Value in the Workplace: How Social Role Valorization Strengthens Employment First ** Distance Leading: Empowering Your Remote Team to Make the Right Calls ** Hot Topics: VR Supported Employment Fees & In-Person Services ** Be a Change Agent: Shifting Culture Mindsets on Substance Use and the Workforce** Looking for a Job with a Criminal Record ** Hot Topics: Waiver funded Supported Employment and Authorizations ** Disability & Employment Policy – A National Perspective ** and stories of people and how they found employment.
All sessions will be live captioned.
Download the full agenda with times & descriptions here. (Zoom links will be sent to all paid registrants Monday December 14th.)
Continuing Education Hours – 6 hours available:
We will email certificates to all attendees. CESP and CRC (including 1.25 of Ethics) credits will offered. Six (6) hours of education will be available.
Reduced fees for APSE members!
Registration Fee – what a deal! Since we are virtual, we can keep our costs way down.
APSE members – $20
Non-APSE member – $35
Not an APSE member yet? This is a great time to join! Join now and list code "KYAPSE" to receive a reduced fee for first time members! AND you get the reduced rate to our conference, plus all the benefits of an APSE membership. Join here today!
We will have a door prize drawn from among all attendees at the close of the conference! We will have an additional door prize for NEW MEMBERS! All new members who joined in 2020 are eligible! We will again have fun door prizes drawn throughout the conference for APSE MEMBERS! (must be present to win)
December 15th, 6:30 – 8:00 Eastern
Mix & Jingle!
We will host a social/networking Happy Hour on Tuesday evening, 12/15!
This is open to all registrants to get together, meet new people, catch up with colleagues you regularly see at KY APSE & have fun! We will have time to talk, games, and door prizes! Holiday attire encouraged (pick your favorite holiday!)
*Zoom links will be sent out Monday, December 14th to all paid registrants. All cancellations must be received, at kyapse@apse.org, by Friday December 11th in order to not be charged.